Dr. Melissa Girard-Lemons
Dr. Melissa Girard-Lemons (Dr. Missy) was born and raised on a poultry, swine (farrow to finish), and cash crop farm in Osceola, Nebraska. Her parents are Ron and Deb Girard of Osceola, Nebraska and she has a younger sister (Kara) and younger brother (Tim). She attended undergraduate school at the University of Nebraska-Lincoln and graduated from Kansas State University College of Veterinary Medicine in 1999. She has practiced for over 23 years in Grand Island, Nebraska, with the Animal Medical Clinic, and in 2005 she purchased the practice and built a new building in 2007. Animal Medical Clinic is a four-doctor progressive small animal veterinary clinic where an emphasis is placed on education, communication, and passionate caring. She enjoys getting to know each and every client and pet to better meet their medical needs.
Missy and her husband, Tim, were married in June of 2008 and have five, four-legged children of various sizes and shapes. (Tim was a client of the clinic and that is how the romance sparked. Gained a husband; lost a paying client!!) Together Tim and Missy have 10 nieces and one nephew.
Dr. Missy is involved with the Prairie Pioneer Quilt Guild and currently serves on the City of Grand Island Animal Advisory Board.
She is an active member of the Nebraska Veterinary Medical Foundation and the Nebraska Veterinary Medical Association. She is also the Superintendent of the Nebraska State Fair Birthing Pavilion. In her free time, she enjoys quilting, cooking, gardening, hiking, and of course spending time with her critters and husband.
Dr. Jennifer Summers
Dr. Jen Summers grew up in York, NE then went to undergraduate school at the University of Nebraska at Kearney after spending a year in Finland as an exchange student. She graduated with a Bachelor's of Science, Comprehensive and went on the veterinary school at Kansas State University. She graduated in 2000. She has two children: Noah, born in 2003 and Skyler, born in 2005. She joined Animal Medical Clinic part time in 2004 and has worked up to full time. Dr. Jen enjoys spending time with her kids, her dogs and cats, traveling, reading, movies, cooking and baking.
Dr. Karla Huneke
Dr. Karla grew up on a small family farm near Henderson, NE. She attended the University of Nebraska-Lincoln for her undergraduate career. Karla then attended the 2-plus-2 program through the University of Nebraska-Lincoln and Iowa State University for her Veterinary school, graduating in 2016. She is a member of the Nebraska Veterinary Medical Association and American Veterinary Medical Association.
Karla and her husband, Barrett, have a busy life chasing after their rambunctious toddler, Briggs, two Australian Shepherds – Loot & Buccaneer, and two quarter horses – Tuffy & Biscuit.
Dr. Elizabeth Prigge
Dr. Elizabeth Prigge grew up on a farm in southern Butler County, where her parents and siblings still reside. She graduated from Doane University in Crete, NE, with a degree in biology and then headed south to Manhattan, KS, for vet school. She graduated from Kansas State in 2012 and spent a couple of years in mixed animal practice. She then pursued the public health side of the profession, working for the USDA for 5 years. While working in the public health realm was a valuable experience, she did not see it as a lifelong career. She joined Animal Medical Clinic in 2020. Dr. Elizabeth enjoys running, traveling, dancing, learning new things, cheering for the Huskers AND the Wildcats, and spoiling her two nephews, her dog (Josie) and her cat (Reese's). She is a member of the AVMA and NVMA.
Kelli
Kelli was born and raised in Grand Island and has been part of the AMC family since 2007, she is a full-time receptionist and bookkeeper. Kelli became the Office Manager in June 2013. Kelli enjoys spending time with her husband and their five amazing children in her free time! She also has two furry kids that keep her lap warm at night named Soup and Luna!
Jenn
Jenn was born and raised in Grand Island and is a graduate of Northwest High School. She has been with Animal Medical Clinic since 2007. She started off working in kennels and worked herself up to front desk receptionist. While Jenn doesn't currently have any pets of her own, she loves giving the pets that come in lots of loves. When she is not at work she enjoys watching and playing volleyball, hunting, fishing, and most of all spending time with friends and family!
Linda
Linda Jelinek retired in June of 2013 after 25 years of wonderful servie she had been with Animal Medical Clinic since 1988, beginning with kennel work, front desk duties, and assisting veterinarians. In 1995, she became clinic's office manager. She holds an Associate Degree in the Medical Secretarial field from C.E. School of Commerce in Omaha (1968). Before joining Animal Medical Clinic, Linda worked for 12 years for two medical doctors. Linda and her husband, Chuck, are allowed to stay in a house owned by Emily, and Old English Sheepdog; and two "queen bee" cats, Sophia, and Sally. The rent is relatively cheap—loads of love, attention, spoiling and lots of food and treats!
Kaeli
Kaeli was born and raised in Grand Island where she graduated from GISH in 2014. After graduating, Kaeli enrolled in a dog training program to become a certified Dog Obedience Instructor. After two years, Kaeli received her certificate in 2020. Kaeli enjoys time off spent with her little zoo consisting of two cats, a dog, two bettas, and a bearded dragon. Oh, and her husband too! Kaeli joined the AMC family in August of 2022 and couldn't be happier!
Julia
Julia joined the AMC family in April 2023 as a full time receptionist. She was born and raised in O'Neill and graduated from OHS in 2019. She loves traveling, trying new foods, and spending time with friends and family. She has 3 fur babies at home; Oakley, Hank, and Holly.
Evan
Evan, a Grand Island native, began his career with Animal Medical Clinic in 1997 as Northwest Highs School student, assisting with kennels. After high school, he left to pursue his interest in veterinary technology, earning an Associate Degree in Animal Science from the Nebraska College of Technical Agriculture in Curtis, Nebraska in 2002. He returned to Animal Medical Clinic, and serves as our Practice Manager and Licensed Veterinary Technician. Evan was married to his wife Heidi in 2012 and they had their first two legged son in 2013 and a daughter in 2016. They also have two dogs; a Yellow Lab mix named Cooper, and a Yorkshire Terrier named Dewey.
Kathy
Kathy is a Licensed Veterinary Technician who graduated from Nebraska College of Technical Agriculture. After working in clinics in Lincoln and Norfolk, she spent seven years as a stay-at-home mom, before joining Animal Medical Clinic in 2007. She and her husband, Chad, have two adult sons, a cat named Suki, a dog named Jake, chickens, rabbits, and a rescue turtle. On the job, Kathy especially enjoys lab work and client education. In her free time, she stays busy as a Stampin' Up! Demonstrator, Boy Scout Volunteer, and working in the garden.
Jill
Jill is a Licensed Veterinary Technician born and raised in west Iowa. She graduated from Vatterott College in Omaha, NE. She had worked at several small/exotic animal hospitals in Omaha before moving to Grand Island in November 2011 and accepted a position with AMC. She has 3 children and lives with her husband on an acreage with cats, dogs, horses, cattle, goats, sheep, pigs, chickens, turkeys, and ducks.
Hadley
Hadley is a graduate of McCool Junction High School and grew up on a small farm with cattle, horses, and chickens. She attended Northeast Community College where she graduated from the Veterinary Technician Program in 2022. She then joined AMC a few months after graduation. Outside of work, Hadley enjoys riding horse, kayaking, and spending time with friends, family, and her dog, Boone.
Jacoby
Jacoby was born and raised in Kearney where she graduated in 2007. She attended school in Omaha and received her Massage Therapy license in 2009. She joined the AMC family in the fall of 2011. Jacoby now lives in grand island with her two daughters. She loves spending time watching her oldest play volleyball and making pancakes with her youngest. Gardening and canning is something she enjoys doing during the summer months. She also has two furry kids Arlo and Ventura.
Jeri
Jeri returns to the Animal Medical Clinic after a 20 year absence. During that time she was a purchasing director for 17 years at a hospital in St. Paul. Jeri happily rejoins the team at AMC as a Veterinary Assistant. She and her husband, Richard, live on an acreage outside of Cairo, along with 4 dogs, 2 cats, goats, chickens, and a pig. Jeri loves spending time with her family, which includes 16 grandkids that keep her very busy!
Mikayla
Mikayla is from Norfolk NE originally but grew up in Grand Island. After high school, she pursued pre-law at Nebraska Wesleyan in Lincoln where she spent the summer working in kennels at a local boarding facility and fell in love with Veterinary Medicine. Six years later, Mikayla moved back to GI with her dog Rosie Lou and found a home here at AMC.
In her free time, Mikayla enjoys finding new places for Rosie and her to explore or an evening at home binge-watching documentaries.
Jill
Jill has lived in Grand Island most of her life. She is a 1982 graduate of Grand Island Senior High and a 1984 graduate of the Nebraska College of Technical Agriculture. A Certified Master Groomer, Jill has been grooming for over 35 years. She was trained by Nadine Matthews and became a CMG – Certified Master Groomer in 1998. She has been making dogs beautiful at the Animal Medical Clinic since 1995! Jill and her husband, Kevin, have five children; Meghan, Mandy, Marlee, Kaitlyn, and Kevin, and three grandchildren! They also have many furry children, including several Yorkies (which she breeds), a Chihuahua, and three cats.
Avery
Avery grew up in Grand Island and graduated from Northwest High School in 2020. After high school, she pursued her passion by achieving her grooming certificate hoping to grow her love of creativity and affection for animals. She joined AMC in hopes to continue to grow from there. Avery loves crocheting, anything art-related, playing softball, and spending time with her dog named Hooey, who loves the pup cup trips!
McKenna
McKenna is an animal caretaker here at the Animal Medical Clinic. She was born in Tipton, Indiana in 1998 and moved to South Carolina in 2008. She only recently moved to Grand Island, Nebraska in 2021. She has a love for all animals and plants and received her Bachelor's degree in Wildlife Biology in 2021.
In her spare time, she loves all arts and crafts including drawing, painting, and crocheting. She also loves spending time with her family and traveling.
Patches, Clinic Mascot
Patches, our beloved clinic mascot, is a charming and loyal companion. With a patchwork coat and a gentle nature, Patches brings joy and comfort to all. They promote animal welfare and serve as a comforting presence, brightening everyone's day.
Kit Kat, Public Relations Specialist
Kit Kat is our 14-year-old resident grumpy cat. She resided with Kelli's grandmother, before moving to the clinic full time. She enjoys naps, eating treats (especially Pop-Tarts), and being feisty. You can usually find her sleeping away in the bed at the front desk or "filing paperwork" in the office.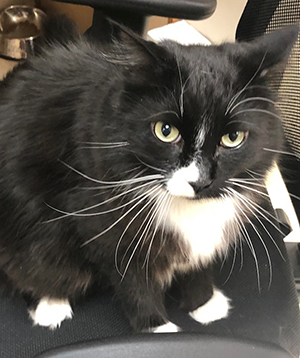 Gus, Security
Gus is Dr. Jen's 8-year-old rescue cat. You usually won't see Gus roaming the front, as he is scared of most noises (even the ones he makes himself) Gus can sometimes be spotted on the shoulders of staff working in the back, keeping the doctors' chairs warm, or sleeping in the paper recycling basket. His special duties include protecting all of AMC from his archnemesis-the bathroom sink.
Tuffy, Quality Control
Tuffy is Dr. Jen's other rescue-having come to the clinic after an accident with a garage door left him unable to walk. He now lives a happy life zooming around the basement, playing doctor in the rooms, and helping the AMC staff with their computer work. You can typically find him strutting around; looking for trouble.
Ventura "Venny", Team Morale
Ventura is the clinic's favorite naughty kitty (though his mom, Jacoby, would just say he's a pain in the rear). The resident lover of AMC, he is the most likely to give hugs and will tell you all about his day given the chance. Venny has his own basket at the front desk and would love for you to stop and give him attention.